We view the sourcing process as a series of steps associated with specific tools designed to make the operation run smoothly as well as keep ALL providers accountable.  Whether it is a contract management tool or a requirements matrix, all of these tools are designed to provide upfront and long term value to the organization.
Simplicity. We subscribe to a Simplicity Serves mentality. In other words, the approach to our work is very simple and highly efficient. The Methods we have developed allow us to approach projects and information gathering in a very systematic and repeatable way.
Our Sourcing Methodology – ASCEND™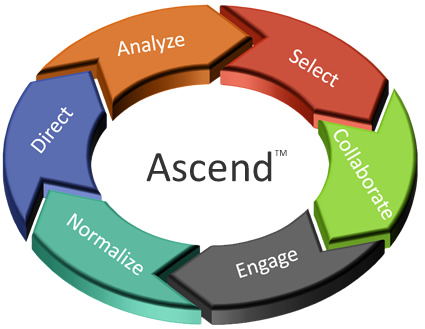 1
Gather information on your current technology projects, providers and technology spending process.
2
Identify providers that meet your culture for your project.
3
Work with you to create a custom sourcing strategy and plan
4
Work with providers for project bid, negotiations and deployment
5
Post project review against statement of work; integrate provider into sourcing process
6
Document, monitor, evaluate and mange key providers performance with scorecards and matrices
Detailed Project Scorecards
Leverage Corporation documents, monitors, evaluates and manages key providers performance with scorecards and matrices.
Schedule a walkthrough so we can show you how simple our process is!